The June announcement by the Securities and Exchange Commission (SEC) to phase-in a requirement for public companies to file using Inline XBRL is another milestone in the agency's federal leadership of standardized digital reporting. The improvement had, during the last few years, seemed to always be 'just around the corner'; the reality is that the Inline XBRL specification is already in widespread use around the world, and has been available to public companies as a voluntary filing option for more than a year. There are significant benefits for all stakeholders with the new requirement, and challenges for companies that have not yet mastered the craft of digital financial storytelling.
The good news – Inline XBRL collapses "human-readable" and "machine-readable" versions into a single reporting document.  It's like this very web page in whatever device you opened it – a structured layout with defined formatting so the text and images can be parsed by your eye.  On the figurative "other side of your screen", the web app interprets the data among the tags according to W3C HTML Standards to make this possible.
Even better – Inline XBRL works with a web reader or browser – it integrates the XBRL and HTML standards, so everyone sees the very same reporting data and doesn't need specialized software or a designated reading application to get metadata for facts with just a click – try it!
The best – Inline XBRL will be every public company's single version of financial truth because the SEC will no longer require submission of separate XBRL and HTML/text versions of financial reports.
So what?
Public company workload will be reduced as filers will no longer prepare two separate documents for the SEC, and will no longer need to post and maintain XBRL files on their web site.
With the elimination of dual filing and continued development of automated validations to improve data quality, retail investors will be able to look confidently at Inline XBRL data as the "golden source" of public company financial performance.
Better quality data means that data aggregators of all sizes will have a greater incentive to rely on XBRL data feeds from the SEC.
FILERS on your marks … get set …
As the SEC moves the markets toward the brave new world of Inline XBRL and sunsets the "traditional" text/HTML process, focusing on the quality of your XBRL data is a crucial "warm-up activity" that all companies should be engaged in within their corporate culture and reporting process – it's never too soon for your team and organization to start thinking in these terms:
The days of XBRL as a "second version" of your company's financial story are drawing to a close – the XBRL you are producing (or helping to produce, if you're a filing agent) needs to be squeaky clean NOW because everybody will be looking at it.

Inline XBRL is data + presentation of your company's financial story.

Use the same time/resources you were spending to produce two versions, to make sure this one version is completely accurate.
GO!!!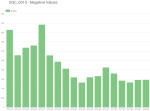 Are you one of the companies still making one or more of these nearly 7,500 errors identified last quarter? The chart shows errors related to a single issue – Negative Values (DQC_0015) – reported in real-time from filings submitted to the SEC's EDGAR database. This check is part of an industry-standard set of freely available automated validations for a filer's XBRL review process, developed and published by The Data Quality Committee (DQC), which also writes guidance for filers and meets with the SEC to discuss these findings and strategies to improve standardized data reporting.
How do you know if you're one of those companies? XBRL US provides a free service for public companies and XBRL US Members to find DQC issues, so they can resolve errors before submitting to the SEC.
We maintain SOC II Certification for our online services including the free DQC check, but don't hesitate to try a prior filing with the DQC service or download the plugin and run it locally if you're unsure about your company's policy for testing unfiled data.
If you're working with a service provider, make sure they're certified with the latest version of these checks.
What else can I do to ensure my company's XBRL financial story is properly reported and understood? XBRL US also has plenty of free educational resources for everyone impacted, membership options for public companies and those working with filers and even opportunities to participate in Center for Data Quality initiatives like the DQC – the future is indeed NOW and the time is right to get involved.
---
---