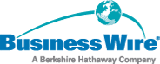 When it comes to disclosure, no one provides more comprehensive services than Business Wire: Country-specific press release disclosure, regulatory filing (EDGAR and SEDAR) and XBRL. As your company prepares to take on XBRL, look to Business Wire for unparalleled expertise and service.   Contact our experts at info@BusinessWire.com or visit us at BusinessWire.com.
---
Learn more about
Business Wire's offerings and participation
as member of the XBRL US Software and Services community since September, 2003.
http://www.businesswire.com/
---