The Securities and Exchange Commission (SEC) is in the midst of transitioning XBRL taxonomy web sites to HTTPS from HTTP. Here's what SEC filers should know about why the transition is happening, and how to make sure they can easily find the right taxonomy.
HyperText Transport Protocol, or HTTP, is a language that allows information to be passed back and forth between servers and clients. When you add "S" to that (HTTPS), it means that authentication of the website and protection of privacy and integrity is taking place, additionally protecting against tampering and eavesdropping.  Use of HTTPS for public taxonomies is becoming more common.
Every government agency web site is required to migrate to HTTPS, through a policy explained in a June 8, 2015 memo, Policy to Require Secure Connections across Federal Websites and Web Services.
As of April 18, 2018, 57% of government sites were in compliance, according to Pulse, a project of the General Services Administration (GSA) which measures how US government agencies follow best practices for federal web sites. SEC web sites, as of this writing, are 96% in compliance.
So how does this rollout affect the SEC taxonomies that issuers, and service providers who work with public companies, use?
The Commission began by requiring that sec.gov hosted taxonomies, for 2018 and going forward, use HTTPS addresses: dei-2018, exch-2018, stpr-2018 and rr-2018. These sites are blocked from using HTTP-only.
Some 2017 sec.gov taxonomies, when used with us-gaap, need HTTP-only. These include country-2017, currency-2017 and naics-2017. These taxonomies, without us-gaap, can be either HTTP or HTTPS.  Other pre-2018 sec.gov taxonomies require HTTP.
The diagram below illustrates how filers can determine if the taxonomy they need is HTTP or HTTPS.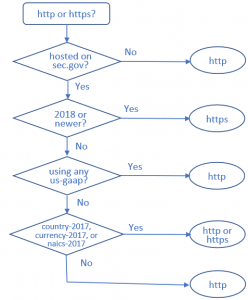 Don't get lost trying to locate the taxonomy you need!
SEC filers and their service providers can use this diagram to understand which protocol is in place for the taxonomy you need to use.
---
---