David Tauriello, Vice President, Operations, XBRL US
An estimated 750 million people use Excel spreadsheets worldwide. Those 750 million people can now have even easier access to the most timely, comprehensive, machine-readable data for public companies filing in the U.S. 
This month, XBRL US introduced a new Excel Add-in to Microsoft Excel which gives anyone with an Excel spreadsheet, the ability to query, extract, and analyze ten+ years of historical data from the over 6,000 companies that are listed on U.S. stock markets. Here's how it works.


Step 1 – Get the Add-in.
Open an Excel file from M365 or Office365, choose the Insert menu, click the Get Add-ins button, search for 'XBRL' and install XBRL Filed Data which will appear as shown below.

Step 2 – Get access codes.
The XBRL Filed Data Add-in features six buttons on the command ribbon. Start with "Get a Free Account and Credentials" which will explain how to get a free account and generate two pieces of information (a "client id" and "secret") which you'll need to begin querying and extracting data. 

The "Get a Free Account and Credentials" button will bring you to the page shown below which will allow you to create an account, if you don't yet have one; and to create a "client id" and "secret", which will be two very long numbers that look something like this: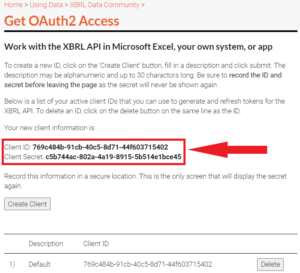 Note them down somewhere (don't share them with anyone). These are your credentials that you will need to cut & paste (or rekey) into the Add-in. Now, return to the Excel spreadsheet and go to the Login/Query Wizard button which will ask you to input your credentials.
Step 3 – Get data.
Now you're ready to get data! Once you have your credentials, the "Query Wizard" will walk you through the various parameters you can use to select any kind of XBRL-formatted data. The drop-down menus on the right-hand navigation let you choose time period, concept, company, even a specific filing, like data from Microsoft's most recent 10-K. Once you've chosen the parameters and clicked on "Search", the data will populate the spreadsheet wherever your cursor resides. 

Check out the XBRL Filed Data Add-in to Microsoft Excel. Historical data from over 6,000 public companies, with updates available within seconds of company submission to the EDGAR System, are available with just a few keystrokes. It's easy as 1 – 2 – 3! 
For more details on getting started, watch this short video, or visit this page. 
And join us on March 10 at 3PM ET at a free webinar on how to use the Add-in. Register now: https://xbrl.us/events/210310/
---
---