By Campbell Pryde, President and CEO, XBRL US
Despite the pandemic, the ESEF rollout of Inline XBRL has begun. ESEF, which standards for "European Single Electronic Format" is the electronic reporting format, also known as Inline XBRL, in which issuers on EU regulated markets, plus the UK, are now required to prepare their annual financial reports.
The compliance deadline was originally set for January 1, 2020, but with many countries struggling last year to deal with the challenges of COVID-19, the European Parliament and European Commission (EC) agreed to allow countries to postpone implementation of ESEF for a year, to alleviate companies' obligations during the pandemic and stimulate recovery. Many countries have opted for the one-year grace period (see the EC list of Member States opting for the postponement).
Some countries however, including Austria, the Czech Republic, Germany, and Slovenia, have decided to move ahead with the implementation for all their reporting companies. And some companies have chosen to start compliance this year even if their jurisdiction has opted to take the one-year grace period.
In fact, we've begun to see Inline XBRL filings trickling in from companies located in Austria, Estonia, Finland, France, the Netherlands, Spain, and the UK, among others. As yet, there is no single location for data consumers to find these submissions, and the valuable, machine-readable data contained in them.
So we have begun posting the files here. Where available, we've included links to the human-readable Inline XBRL file in a viewer (like the one for Sampo Group shown below), while for others, you'll find only the zip file containing the XBRL instance.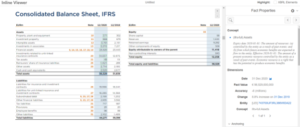 Click for Sampo Groups' iXBRL filing in viewer
Our goal is to update this page with new inline XBRL submissions as we hear about them, so that investors and other data users who have been clamoring for EU company data in machine-readable format, have a single place to find them. So please alert us if you have a filing (or know of one) that we should add. Share details on the "Add an ESEF Filing" on the right side of this page, including the link to the Inline XBRL viewer if available.
The ESEF program is a huge step forward towards giving investors, governments and the public much more timely, actionable, decision-useful information from hundreds of companies worldwide. This data deserves to be seen and used!
For more on ESEF.
---
---

By Campbell Pryde, President and CEO, XBRL US
---
---