Members of the XBRL US Center for Data Quality: Altova, the American Institute of CPAs (AICPA), Broadridge Financial Solutions, Certent, DataTracks, Donnelley Financial Solutions (DFIN),  P3 Data Systems, RDG Filings, Toppan Merrill and Workiva. Toppan Merrill is a founding member of the Center for Data Quality.
Reviews, ratings, and rankings are increasingly common feedback loops for products and services. Every time you listen to a webinar or podcast, take an Uber, visit a retail store, or buy a product online, it's likely that you'll be asked to assign a grade, or write a review, about the service or product received.
The world is awash in data and reviews and scores, geared to collect feedback and help customers make better decisions. Who doesn't check out customer ratings on Yelp when picking a hotel or restaurant? More important, these scores and reviews are a critical input for savvy creators to improve what they are offering.
In the spirit of the "how are we doing" feedback movement, the XBRL US Center for Data Quality has been reviewing individual corporate filings for issues related to data quality since 2015. The Center funds the Data Quality Committee (DQC), which creates thousands of freely available, open-source, publicly-reviewed, automated rules that can be used to check values reported in an XBRL filing, as well as the structure of a company's extension taxonomy.
Validation rules ask questions like:
What's the appropriate signage for a reported value, for example, should Accrued Liabilities and Other Liabilities be reported as positive?
Yes, always.
Does the value have the right calculation weight, for example, if it's a value for Current Assets, does it have a positive calculation weight against Assets?
Yes, it should.
Was an extension created for an Axis that doesn't allow extensions, for example, should an Extension for "Euro" be created on the Currency Axis?
No, the filer should have used the Member representing "euros" that already exists in the US GAAP Taxonomy
The members of the Center for Data Quality know that when mistakes are made, the data reported could be interpreted and relied upon incorrectly by investors and regulators. And the data cannot be accurately compared to other companies.
That's why the DQC checks are freely available, and checking a filing is easy. Any issuer can access and run the rules against an XBRL document to identify errors and make corrections when it matters most – before data is submitted to the SEC EDGAR System.
If you are an issuer working with a  DQC Certified software, the checks are already hard at work, checking your filing. All other issuers can use a free tool on the XBRL US Web site to check their filing.
And because it's important for all stakeholders – including filers, investors, regulators, researchers and others – to be aware of the data quality of company financial statements, the XBRL US Center for Data Quality and DQC also posts historical Filing Results. Anyone can review the latest filings published by the SEC, or search for results about a specific company, to see how the quality of the XBRL financials has improved over time.
Filing Results details DQC error information by individual filing. The example below shows error count[1] for American Renaissance, which had 4 DQC errors in its most recent 10-K, and 3 errors in it's most recent 10-Q. Expanding the list shows the message for an error identified in its 10-Q filed on January 31, 2017. This was the result of reporting Assets with a value that was not equal to the total of the values reported for Liabilities and Equity.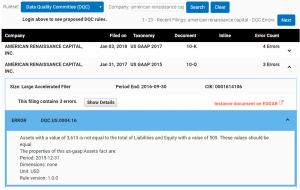 The Filing Results application shows historical filings that have been already submitted to the SEC. But all filers should run the rules on not-yet-public XBRL reports, so that they can fix mistakes before they go public.
Want some feedback from the Center for Data Quality and DQC? Check out your results. Check out other companies in your industry.
But most important – always make sure you (or your filing agent) uses the DQC validation rules as part of your review process before you file. Make sure your company's financial statements have no DQC validation errors before they're delivered to regulators and investors.
Check your Filing Results now.
[1] Application depicts Data Quality Committee errors, and may not include other errors not captured by the DQC validation rules.
---
---