Since the U.S. Securities and Exchange Commission (SEC) mandated XBRL formatting for periodic reporting almost 10 years ago, the age-old, critical accounting task of 'tick and tie' has become a digitally-driven task for public company reporting personnel and their partners. Creating good quality, computer-readable financials is more than just selecting appropriate elements – as with any regulatory report, XBRL-formatted financials must be error-free and provide an accurate representation of a company's investment outlook. To that end, the XBRL US Data Quality Committee (DQC) develops, tests and releases, free, unambiguous guidance and rules to help public companies digitally proof financial reports prior to filing with the SEC.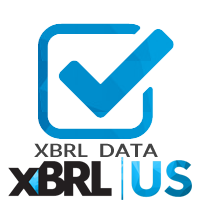 Learning where to find, as well as how to build, influence and use DQC and XBRL US resources has been an essential part of the hands-on professional development necessary to the industry that Campbell Pryde noted in a Point of View earlier this year, when he introduced the XBRL Achievements program. This month, we're adding an XBRL Data category, with badges related to raising the quality of, and using, standardized data.
XBRL Achievements is XBRL US' micro-credential program recognizing knowledge and skills developed for the changed digital financial reporting paradigm with categories for specification development, professional education, committee involvement, and now, data.
Reporting supply chain participants – public company personnel and partners, regulators, analysts and researchers – know the value of telling a company's story with standardized data. And now, XBRL Achievements are showing up on LinkedIn and other professional/social networking platforms to let colleagues and other professionals know who sets and keeps the pace in a transformed reporting environment.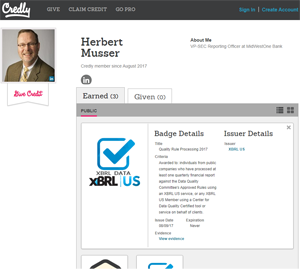 Herbert Musser, VP-SEC Reporting Officer for MidWestOne Bank who has been involved with XBRL for several years says that, "XBRL Achievements acknowledge the effort I've led to meet SEC filing requirements at MidWestOne. We're doing everything we can to get our data right, and I look for similar commitment from others in my networks, in terms of identifying peers who share common experience and best practices. Creating and understanding standardized financial data won't always be 'new'. The Achievements program is an easy way to show the skills I've acquired."
In addition to the current set of four XBRL Data achievements noted below, we're working on a fifth due in the coming months that will recognize XBRL US SEC Filer Members who have submitted a year's worth of filings that are free of issues addressed by DQC rules and guidance.
Quality Processing for checking documents with free XBRL US web-based services;
Quality Rule Development for creating rules and guidance as part of the DQC;
Quality Rule Comment for participating in the DQC public review process, and;
API Use for tapping into the pool of SEC data points to do analysis with our database.
It's never too late to start learning and earning XBRL Achievements, and use Credly to post your accomplishments to your professional and social media profiles – tick and tie, tick and tie.
---
---